Purdue and Tennessee square off in a heavy weight semi-finals match-up at the Maui Invitational
#2 Purdue (4-0) takes on #7 Tennessee (4-0) in the semi-finals of the Maui Invitational.
Purdue handled #11 Gonzaga 73-63 after Tennessee pulled away from Syracuse 73-56 in the first round games of the Maui Invitational to set up the 2019 Sweet Sixteen rematch.
It sets up one of the more fun match-ups available to a historically stacked tournament bracket. Rick Barnes and Matt Painter will face off for the first time in five years, when the Boilers got the better of Tennessee in the Sweet Sixteen.
Tennessee comes into the tournament as the best defensive team in the country according to Kenpom, and a just outside the top 30 offense. Purdue has the fifth best defense after holding Gonzaga to 63 points and the third best offense in the country according to Kenpom.
Purdue is a bully in the post with returning Player of the Year, Zach Edey, while Tennessee looks to bully everywhere else with big, physical guards that defend the full length of the court while trying to make opposing guards' life complete hell.
Both defenses allow less than 26% shooting from three while both offenses have a balanced attack. Tennessee was 5 of 14 from three against Syracuse. Purdue was just 4 of 17 against Gonzaga.
Purdue's bench and young guards will be tested against a Tennessee team that plays with the blueprint that led to Purdue being upset in the first round of the NCAA Tournament last year.
But Tennessee, like every other team in the country, has no answer for Zach Edey. Purdue has also gotten faster with transfer Lance Jones stepping right into the starting lineup, and two freshman Camden Heide and Myles Colvin who both had moments in their first Maui Invitational game.
Can Tennessee's physicality get the best of #2 Purdue or will Zach Edey and Purdue's non-conference dominance continue?
Can Tennessee play spoiler or is Purdue destined to set up a match-up with #1 Kansas in the finals?
Can Tennessee get anything from its bigs?
Purdue knows what it's going to get from its bigs. Zach Edey is the best player in the country, a walking, talking, automatic 20-10 machine. Matt Painter has three bigs behind Edey who offer different, but consistent production.
Painter has Mason Gillis to stretch the floor. Caleb Furst to get fast and long and open up the paint with rolls. Trey Kaufman-Renn to post up when Edey isn't in the game.
For Tennessee, a starting lineup of four guards with Center Jonas Aidoo allows Tennessee to be flexible, fast, and aggressive at both ends of the floor.
But Tennessee relies on its defense to create easy looks on the offensive end, and Aidoo to get good looks inside. He was great in Tennessee's wrecking of Wisconsin, scoring 10 points on 5 of 7 shooting and against Syracuse, scoring 14 on 6 of 12 shooting. But Aidoo came into the tournament as Tennessee's fourth leading scorer. The other five leading scorers are more perimeter oriented. Aidoo will have to bang against Edey on the defensive end, but maybe more importantly needs to make Edey work for it on the other end.
Aidoo has good feet and moves quickly, and is the only big capable of getting his own bucket. He can push in transition without the ball to force Edey into keeping up.
He'll also need to avoid foul trouble because his back up, Tobe Awaka, has the heft to try and hold up against Edey, but the discipline to get fouled out in ten minutes. Awake is averaging 6.1 fouls per 40 minutes against non-Edey players.
If Tennessee is going to hang around, Aidoo has to be on the floor for the Volunteers a lot.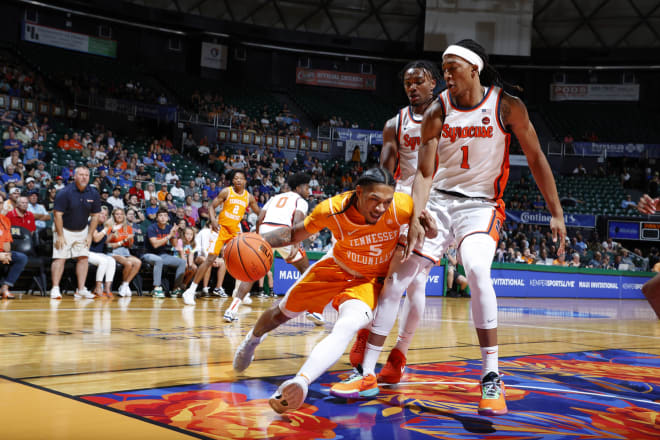 Match up of the game – Who guards Knecht?
Dalton Knecht has exploded for Tennessee out of the gates after transferring from Northern Colorado. Knecht was a 20 point scorer for Northern Colorado and hasn't lost a step coming over to the Volunteers.
Knecht, a 6-6 wing, has been Tennessee's best scorer and offensive player, scoring 19.7 a game to start his Volunteer career while making 60% of his shots inside the arc and just under 39% from three.
Knecht is a crafty, north and south, lefty that uses his threat of shooting to get to the rim or his mid-range shot. He's not a natural play maker and main ball handler, instead using his size and good first step to attack in transition or when the defense is tilted in his advantage.
Purdue is likely to throw its own transfer, Lance Jones, at the wing to start the game. Jones will be giving up length to Knecht, but he's a ferocious on ball defender, who has the strength and wing span to guard up as he did against Xavier in Purdue's third game of the season.
Unlike season's past, Painter has a multitude of options to throw at dangerous offensive weapons on the wing. Expect Ethan Morton to get an early crack at Knecht off the bench and Camden Heide if Painter wants to show Knecht more size. Both have been excellent for Painter off the bench, Morton particularly has caused havoc defensively.
Battle of the Boards
Purdue has not been rebounding the well, not for them, not for a team that has Zach Edey. Edey is nearly 10% down on amount of offensive rebounds grabbed this season. Defensively, Purdue has been even more mediocre, giving up an offensive rebound on over a quarter of the misses its forced.
Tennessee is not a great rebounding team, but has been solid on the defensive end. Josiah-Jordan James and Jonas Aidoo accounts for most of Tennesee's rebounding prowesss, with James a versatile 6'7″ wing and Aidoo a 6'11" that really goes after boards on the defensive end.
Purdue has given up 14, 12, 8, and 8 on the offensive glass this season and barely edged out Gonzaga with second chance points, 10-9 in its first Maui game. Last year's squad relied on offensive rebounding to gain an edge. It hasn't quite been the same weapon for Painter's squad this year.
Tennessee is a team that makes games ugly. They out rebounded Syracuse 48-33. Tennessee wants to play physical, muck things up for Purdue, and using that physicality to keep Purdue out of the paint. Purdue being able to response outside of Edey will be paramount to force Tennessee into having to earn buckets.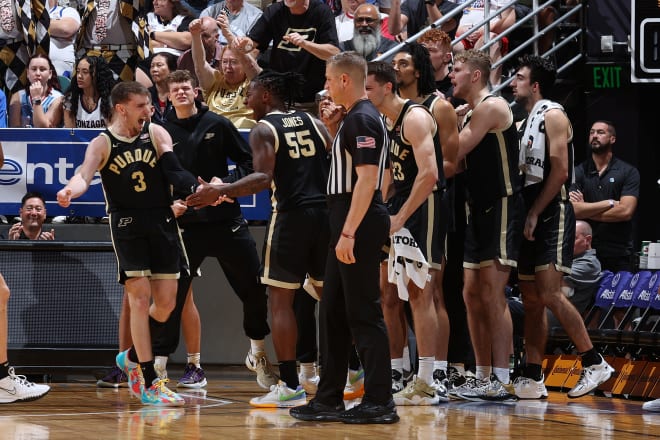 Is Purdue's defense real?
It's been half a decade since a Purdue defense ranked this high on KenPom as Purdue's defense makes the climb into the top-5 best defenses in the country. The addition of Lance Jones has helped, but so has the play of Braden Smith who has turned up his intensity on the defensive end.
Against Gonzaga, Smith had 5 steals.
At the other end, Zach Edey has gotten quicker and the 7-4 Center is getting to shots at the rim at an alarming rate for other teams. He had another 3 blocks against Gonzaga, erasing guards hard work of getting to the rim.
Purdue's athleticism and physicality has improved with the size of Camden Heide, Ethan Morton's added energy off the bench, Jones aggression and quickness, and Caleb Furst's ability to move on the defensive end.
Teams have a 40% effective field goal percentage against Purdue, including shooting 21% from three on the year. That's the sixth best rate in the country and while Purdue has improved its ability to defend the perimeter, some of that, as Painter likes to say, is just the product of the other team missing shots.
That was on display in Purdue's first win at the Maui Invitational went 6 of 19 in the first half before going 0 of 13 in the second half.
Tennessee for its part, is shooting the three well to start the season. At a 37.5% clip, Tennessee is the 63rd best shooting team from three.
But Tennessee is middle of the pack in the amount of its points coming from the three point line.Tennessee is middle of the pack in almost every offensive category. They protect the ball well, turning it over on just 15% of its possessions, but it lacks natural play makers and its offense can get slogged down with ball movement that doesn't threaten defenses.
Purdue held a top five offense in Gonzaga to just 63 points, a lot of that because the Zags couldn't get its jumper to go, but Matt Painter does two things as well as any teams in the country. It doesn't give up free throws and it doesn't let teams score in the paint.
Can Purdue continue to do that against a physical, messy (in a good way) Tennessee team that looks like it belongs in the Big Ten at times on offense? Will Purdue's depth show itself as the more energetic, aggressive bunch against a Tennessee team that struggled most the game against Syracuse before opening it up late.