NCAA Tournament 2019: Power Ranking the Elite Eight Teams
If you were among the many fans complaining about how boring (read: lacking in upsets) the first two rounds of the 2019 NCAA men's basketball tournament were, here's hoping you stuck it out to watch the Sweet 16. Those games were nothing short of incredible.
Well, Texas Tech's desolation of Michigan wasn't all that entertaining. But, hey, seven out of eight isn't bad.
The wild thing is that in spite of the Red Raiders embarrassing a title contender en route to a third consecutive postseason win by at least 15 points, they still aren't in the top half of our power rankings of the remaining teams.
This tournament is loaded with talented titans, and any of the eight remaining teams could legitimately win it all. There are 16 possible ways Saturday and Sunday could still play out, and all 16 are equally plausible.
These power rankings are based on a combination of regular-season success and how each team has looked thus far in the tournament, and it's roughly a 50/50 split between those two categories. One factor not considered is the draw for each team. Rather, this should be considered a re-ranking of the field, and how we would seed teams for the Elite Eight if such a reseeding took place.
8. Purdue Boilermakers
1 OF 8
Carsen EdwardsKevin C. Cox/Getty Images
What We've Learned: Carsen Edwards still has it. Purdue's lead guard went through quite the rough patch in February and had an awful showing (11 points on 17 shots, six turnovers) in the Big Ten tournament loss to Minnesota. The Boilermakers have been so tough to beat this season when "Good Edwards" shows up. But if you picked Old Dominion to upset these guys in the first round because you had seen too much of "Bad Edwards" heading into the tournament, you weren't alone.
Through three games, Edwards has been incredible. Ryan Cline's shooting was the big story coming out of the Sweet 16, but let's not overlook the fact that Edwards is averaging a sophomore-year Stephen Curry-like 32.3 points per game while shooting 43 percent from three-point range. If Purdue can get to the national championship game, Glen Rice's record of 184 points scored in a single NCAA tournament is in danger of being broken.
Most Outstanding Player Candidate: Edwards, of course. He lit up Villanova for 42 points in the process of destroying the defending national champions. He has led Purdue in scoring in seven of his last eight games, and there's no doubting that he is going to continue taking at least 20 shots per game unless teams throw a Triangle-and-2 at the Boilermakers in which both man-to-man defenders are double-teaming Edwards.
X-Factor: Matt Haarms. The hair-flipping, Ivan Drago-looking punchline of last year's Big Dance has become an indispensable asset for the Boilermakers as of late. Haarms disappeared often in the first three months, but he has scored in double figures in eight of his last nine games, averaging 6.6 rebounds and 2.6 blocks during that stretch.
With Tacko Fall and Christ Koumadje gone, Haarms (7'3″) and Virginia's Jay Huff (7'1″) are the only remaining players taller than 7'0″. Teams are most worried about slowing down Edwards and Cline, but Haarms can take over a game with his size.
Championship Blueprint: Keep shooting well. The 99-94 game against Tennessee notwithstanding, Purdue has been great on defense for the past several months. Haarms and Trevion Williams anchor a great offensive rebounding unit. And for as much as he is utilized in the offense, Edwards doesn't commit many turnovers. If he and Cline continue to shoot as well as they did against Villanova and Tennessee, you might be looking at the first No. 3 seed to win the NCAA tournament since Kemba Walker and Connecticut in 2011.
7. Michigan State Spartans
2 OF 8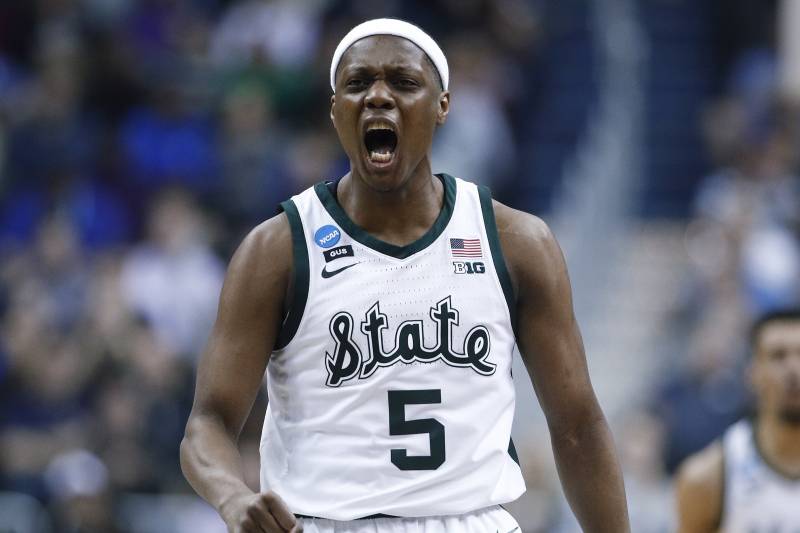 Cassius WinstonPatrick Semansky/Associated Press
What We've Learned: Sparty has depth. With Joshua Langford out for the year, Kyle Ahrens doubtful to return from a badly sprained ankle suffered in the Big Ten championship and Nick Ward still not looking quite right in his recovery from a broken hand—an injury he appeared to aggravate in the second half against LSU—Michigan State entered the tournament with a bunch of question marks beyond Cassius Winston and Matt McQuaid.
But in the Sweet 16, freshmen Gabe Brown and Aaron Henry both exploded for career highs. Brown entered the night having scored nine points in February and March combined, but he came off the bench for 15 points. Henry led the way with 20 points, eight rebounds and six assists. McQuaid and Ward combined for just 10 points, and yet the Spartans won by 17. If those young guys continue to contribute even half that much, the Spartans are going to be a problem.
Most Outstanding Player Candidate: Winston. The junior point guard gets undervalued by a lot of people because his NBA potential isn't anywhere near what it is for the likes of Zion Williamson or Ja Morant. Sleep on this stud at your own risk, though. He's the closest thing we have to a Jalen Brunson this year. He can either shoot or set up teammates beautifully from anywhere within 24 feet of the hoop. There is no chance in hell this banged up Michigan State roster would be this good with anyone else running the offense.
X-Factor: Turnovers. The Spartans did an incredible job of not only keeping turnovers under control but actually winning the turnover battle against an aggressive LSU defense in the Sweet 16. However, they were minus-16 in turnover margin in the second round against Minnesota, and you just get the sense that it's eventually going to be a problem.
Championship Blueprint: Limit turnovers and protect the paint. We'll have to wait and see what Ward's status is for the rest of the tournament, but the Spartans still have solid interior rebounders and defenders in Xavier Tillman and Kenny Goins. If they can continue to limit opponents to less than 42 percent shooting on twos, they'll be tough to beat.
6. Auburn Tigers
3 OF 8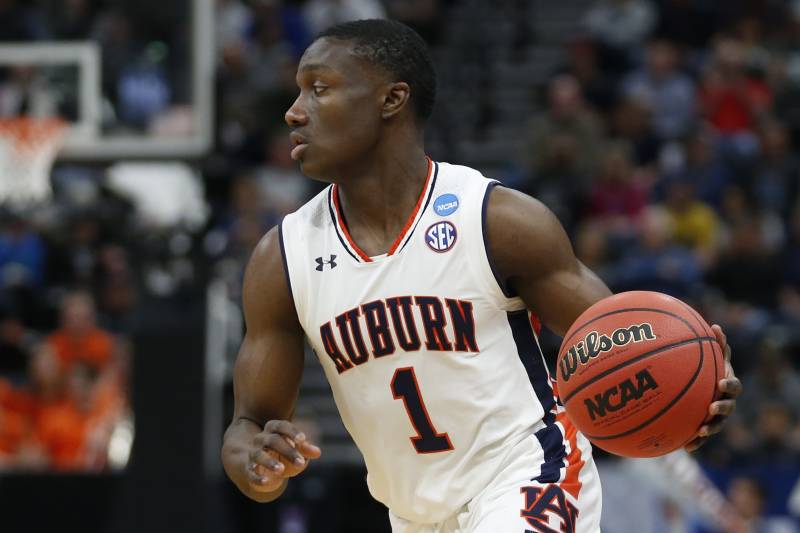 Jared HarperRick Bowmer/Associated Press
What We've Learned: Auburn's run through the first two-plus weeks of March was no joke. After three months of inconsistent play and no quality wins, the Tigers caught fire for late wins over Mississippi State, Alabama and Tennessee. They proceeded to shoot their way through the SEC tournament and haven't stopped yet.
Auburn made a dozen threes in the opener against New Mexico State, followed that up with 13 against Kansas and exploded for 17 more against North Carolina. This has become the most unstoppable offense in the country.
Most Outstanding Player Candidate: Jared Harper. It would've been Chuma Okeke if not for the knee injury he suffered against North Carolina. If he's able to return, go ahead and swap that versatile, do-everything big man into this spot. Short of that, let's go with Harper, since his combination of vision, passing, shooting and defensive presence is what makes Auburn's steals and threes approach work so well.
X-Factor: Rebounding. The Tigers did an unbelievable job on the glass in the Sweet 16 win over North Carolina. UNC finished plus-four in rebound margin, but given Auburn's struggles in that department all season and the Tar Heels' domination on the glass, that easily could have been a minus-30 for Auburn. If the Tigers can continue to keep that Achilles' heel under control, it's hard to see how anyone will beat these guys.
Championship Blueprint: Don't change a thing. Keep firing up threes. Keep getting blocks and steals. Live with whatever else happens. Auburn's style is just so tough to stop. Like Villanova in recent years, you hope the Tigers will eventually shoot themselves into oblivion by going cold, but there are so many capable shooters on the roster that it's a foolish thing to hope for.
If Auburn continues to shoot at least 38 percent from three-point range and gets at least eight steals in each game, it won't lose.
5. Texas Tech Red Raiders
4 OF 8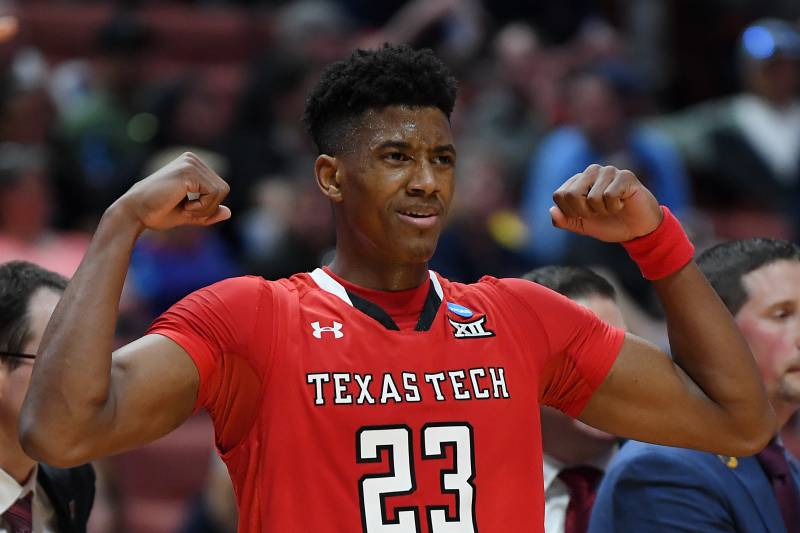 Jarrett CulverHarry How/Getty Images
What We've Learned: Those late defensive struggles were just a smokescreen. Texas Tech gave up 73 points to Iowa State in the regular-season finale and then let West Virginia put up 79 in the Big 12 tournament. For a team that only allowed 73 points (in regulation) twice in its first 30 games, it was weird to see the defense broken like that—especially by a West Virginia team that struggled on offense all year and mustered just 50 points in a 75-possession game against the Red Raiders in February.
That vaunted Texas Tech D is back, though. The Red Raiders held Northern Kentucky, Buffalo and Michigan to 53.0 points per game and an absurd 80.3 points per 100 possessions. Prior to C.J. Baird making a meaningless three as time expired, Michigan was 0-of-18 from downtown against this unyielding D. They now have an adjusted defensive efficiency of 84.4. That's tied with 2014-15 (38-1) Kentucky for the second-best mark in KenPom history, just barely behind that of 2008-09 Memphis (84.2).
Most Outstanding Player Candidate: Jarrett Culver. The soon-to-be lottery pick is a big part of TTU's defensive prowess on the perimeter, but he's also the most important offensive weapon. Culver has led the Red Raiders in scoring in all three rounds, averaging 22.3 points per game. He is only 10-of-39 (25.6 percent) from three-point range over his last eight games—1-of-9 in the last two contests—but he is an ever-present threat to bury a dagger, scoring at least 15 points in 11 straight.
X-Factor: Secondary scoring. Davide Moretti finally hit a few threes in the win over Michigan to end his tourney drought, but the big question all year for Texas Tech has been: Who shows up on offense aside from Culver?
Moretti, Matt Mooney and Tariq Owens are each more than capable of putting points on the board. However, Moretti is threes-or-bust, and neither Mooney nor Owens has tallied more than 16 in a game since January. Texas Tech doesn't need much scoring to support this defense, but it could win it all if those three secondary scorers reach double digits in each remaining game.
Championship Blueprint: Do not let up on defense. Every red-hot offense eventually runs into an off night in the tournament, and that seems to be the case for elite defenses, too. Virginia immediately had its UMBC disaster in the first round last year. Gonzaga had a few let-ups in 2017. Even that incredible Kentucky team had a pair of less-than-stellar performances once it started running into great shooters in the Elite Eight.
Just to reach the Final Four, Texas Tech will need to shut down a Gonzaga offense that ranks as one of the most efficient in KenPom history. After that, either Duke or Michigan State would be waiting with yet another sensational offense. And similar to the Michigan team that TTU just trounced, it doesn't have the offensive firepower to win a game played in the 70s or 80s. If the Red Raiders can keep these games at their preferred pace, though, they have a shot.
4. Kentucky Wildcats
5 OF 8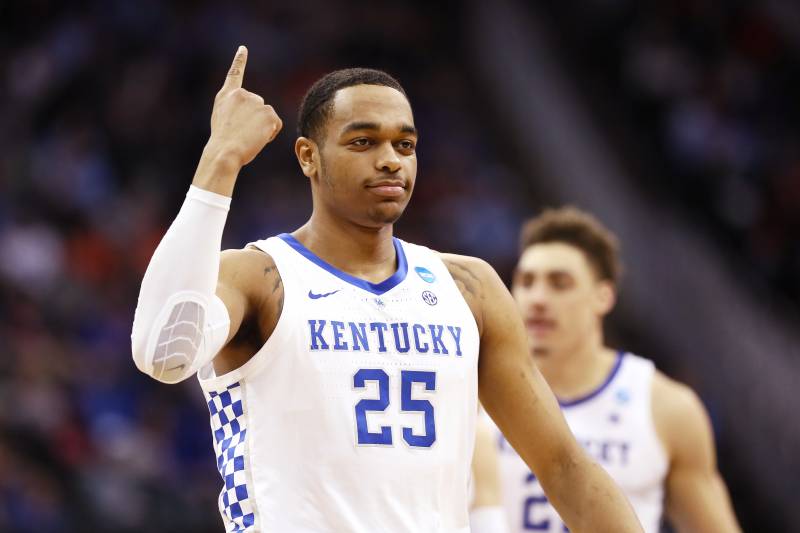 PJ WashingtonJamie Squire/Getty Images
What We've Learned: PJ Washington is fine. Kentucky's star big man missed the first two games with a foot injury that surfaced shortly after Selection Sunday, but he was back out there in the Sweet 16 win over Houston. Hard to imagine the Wildcats could have won that game without him, as he had 16 points in a battle that wasn't decided until the closing seconds.
With him back, Kentucky might be the favorite to win it all. The Wildcats beat a bunch of great teams—North Carolina, Auburn (twice), Tennessee (one out of three), Kansas, Mississippi State (twice), Louisville, etc.—in the middle of the season with Washington leading the way. And on what was an awful night for both Keldon Johnson and Reid Travis against a great Cougars defense, Washington had some huge buckets to get the job done.
Most Outstanding Player Candidate: Washington. He missed two games, but if he's healthy for the Final Four, that's all that matters for M.O.P. purposes. Let's be sure to throw an honorable mention in Travis' direction, though. The graduate transfer from Stanford has averaged 12.7 points and 10.3 rebounds through Kentucky's first three wins. And though he doesn't block many shots (none yet in the tournament), his physicality in the paint has forced Kentucky's opponents from scoring with any regularity inside.
X-Factor: Three-point defense. Kentucky's biggest issue early in the season hasn't been much of one yet in the tournament. Houston's Armoni Brooks got hot for six treys Friday night, but opponents are just 20-of-70 (28.6 percent) from distance against the Wildcats. Factor in Kentucky's typical, excellent interior defense, and how are teams supposed to score against the Wildcats? The answer: They can't. Kentucky is allowing 52.7 points per game.
Championship Blueprint: Keep defending at a high level and ride Washington now that he's back. The Wildcats have only made 11 threes in the tournament, but they're so dominant in the paint that it hasn't been a problem. We already know Kentucky can beat Auburn, and if they run into Virginia in the Final Four, the Wildcats can win that defensive grind, too.
3. Duke Blue Devils
6 OF 8
Zion WilliamsonAlex Brandon/Associated Press
What We've Learned: Tre Jones can shoot. Not so much in the opening weekend (1-of-10 from three-point range), but the point guard was Duke's hero in the Sweet 16 against Virginia Tech. Jones drained five three-pointers Friday night after going more than four months since the last time he made multiple triples in the same game.
With Cam Reddish missing the Sweet 16 game due to a knee injury, Duke desperately needed a third guy to step up alongside Zion Williamson and RJ Barrett to help carry the scoring load. He answered the call with a career-high 22. Just as important, he had eight assists without a single turnover. What a remarkable turnaround for a guy who was unable to capitalize on being left wide-open all night in the previous round against UCF.
Most Outstanding Player Candidate: Williamson. Do we even need to justify this one? The no-brainer No. 1 pick in the upcoming NBA draft is 35-of-54 (64.8 percent) from the field in the NCAA tournament, and the high-flyer already has two blocked shots (and several dunks) that left the college basketball world stupefied by his athleticism. Williamson has scored at least 21 points in all six games since returning from the knee injury, as even the most creative defenses haven't been able to slow him down.
X-Factor: Free-throw shooting. Jones missed the front end of a one-and-one late in the game against Virginia Tech, leaving the door open for the Hokies to have a shot to win. And he is one of Duke's best free-throw shooters. Both Barrett and Williamson connect on less than 67 percent of their freebies. If the Blue Devils keep playing nail-biters, that could be what eventually buries them.
Championship Blueprint: Feed the big boys and hope the second half against Virginia Tech was some regression to the mean in regard to three-point defense. The Hokies started out 7-of-13 from distance—this after UCF shot 50 percent against Duke in the previous game. But the Hokies made just two of their final 13 attempts, which is more in line with what Duke's defense had been doing all season. If opponents go back to shooting worse than 30 percent from distance against Duke, there's no beating this team.
2. Virginia Cavaliers
7 OF 8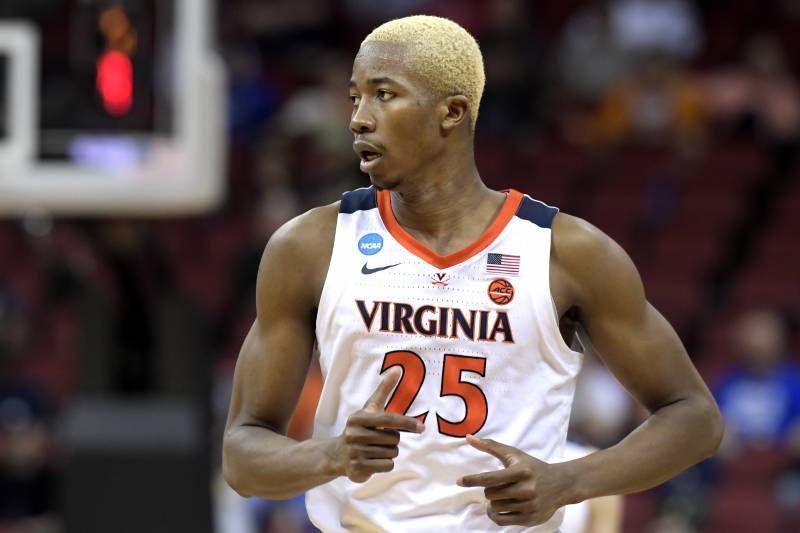 Mamadi DiakiteTimothy D. Easley/Associated Press
What We've Learned: Virginia can win even when it can't buy a bucket. Kyle Guy has been ice cold from three-point range (3-of-26) and the Cavaliers have yet to shoot better than 30.4 percent from distance—a preposterous slump for a team that shot 40.9 percent prior to the tournament and did not have two consecutive games shooting below 33.3 percent.
And yet, Virginia keeps winning with its typical defensive prowess. Two of its first three games were over by midway through the second half. And in the third game, Virginia held Oregon to seven points in the first 11 minutes and limited the Ducks to six points for a span of more than 10 minutes in the second half. Tourney opponents have averaged 52.0 points against the Cavs.
Most Outstanding Player Candidate: Mamadi Diakite. Before the tournament, this dude probably would have been my seventh pick for Virginia's most important player, but he has been huge for the Cavaliers during the first half of this dance. The redshirt junior has averaged 12.7 points and 9.7 rebounds in the tournament, and he had four combined blocks and steals in each of Virginia's last two games. If Virginia is to win it all, Guy will probably snap out of his funk and become the star in Minneapolis. But the Wahoos would not still be alive right now if not for Diakite.
X-Factor: Three-pointers. Not only is Virginia struggling to make shots, but it is allowing threes at a much higher rate than usual. Starting with the regular-season finale against Louisville, five of Virginia's last six opponents have shot at least 36 percent from distance—a mark that was hit in only three of Virginia's first 29 games.
It's incredible that the Cavs have been able to survive this long in spite of that sharp contrast in three-point luck, and they might just go on a rampage through the next three games if they can get back to shooting 40 percent while holding teams to 28 percent.
Championship Blueprint: Don't panic, and figure out a way to slow down RJ Barrett if there's a third matchup with Duke in the national championship. Barrett averaged 28.0 points in the first two meetings, in large part because his ability to score in iso offense is the key to cracking this pack-line D. But with Diakite playing like this, UVA may have finally found its answer. Don't go looking ahead to that matchup yet, though. Both teams have two more tough games before then.
1. Gonzaga Bulldogs
8 OF 8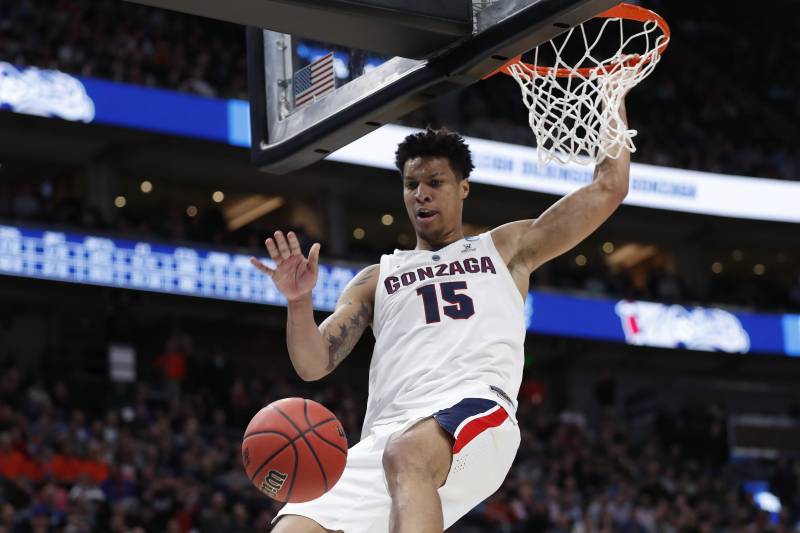 Brandon ClarkeJeff Swinger/Associated Press
What We've Learned: This three-point defense is on point. Our biggest concern with Gonzaga coming into the tournament was its ability to slow down the opposing team's perimeter game. The Bulldogs excelled in that department during West Coast Conference play, but Creighton, Tennessee and North Carolina each torched Gonzaga from distance in December. As such, there was cause for concern once the Zags started facing major-conference offenses again.
Those fears can be laid to rest, though, because Baylor and Florida State shot a combined 7-of-41 (17.1 percent) from downtown against Gonzaga. Neither of those teams is elite from three-point range, but neither the Bears nor the Seminoles had shot that poorly in at least 20 games. Gonzaga has won all three tournament games by at least a dozen points.
Most Outstanding Player Candidate: Brandon Clarke. The NBA scouts are more enamored with Rui Hachimura, but Clarke has been Gonzaga's best player all season. He is averaging 21.0 points, 9.3 rebounds, 4.3 blocks. 2.3 assists and 1.3 steals in the tournament. As far as efficiency is concerned, his worst game was against Florida State in the Sweet 16. But he still had a double-double, a ridiculous putback dunk and five blocks in that contest. Clarke has scored in double figures in every game this season.
X-Factor: Stopping the bleeding. Baylor and Florida State went on runs in the second half, turning a blowout into a two-possession game in the blink of an eye. Gonzaga recovered in both games by turning to Clarke for high-percentage shots, but they had big second-half letdowns in the loss to Tennessee and the close calls against Duke and Washington a few months ago. When that run comes in the next game(s), will the Bulldogs be able to extinguish it again?
Championship Blueprint: Stick to what got them here. The Bulldogs have been arguably the best team in the country this season thanks to smart shots and minimal turnovers on offense and better-than-advertised play on defense. If Clarke is blocking shots and throwing down dunks, Hachimura is doing his mid-range thing, Josh Perkins is avoiding back-breaking mistakes and Zach Norvell Jr. and Corey Kispert are occasionallyhitting threes, this team is almost impossible to beat.