You've successfully subscribed to World News Updates - WNU365
Great! Next, complete checkout for full access to World News Updates - WNU365
Welcome back! You've successfully signed in.
Success! Your account is fully activated, you now have access to all content.
Success! Your billing info is updated.
Billing info update failed.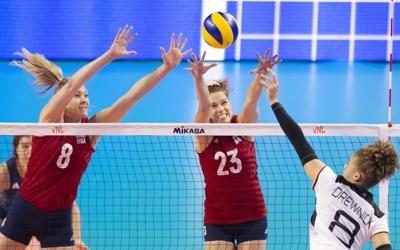 The U.S. team's Lauren Gibbemeyer (left) and Kelsey Robinson try to block an attack by Germany's Kimberly Drewniok in the second set June 5 during the FIVB Volleyball Nations League at Pinnacle Bank Arena. The Americans won in three sets.
World News Updates - WNU365 Newsletter
Join the newsletter to receive the latest updates in your inbox.
---